Food Photographer living in London producing delicious material, and other related documents.
Archive for the 'Blog' Category
Monday, October 4th, 2010
Hyde Park, near Speaker's Corner, September 2010.
London.
It was a fairly quiet affair. While the hacks reported a 80,000 turn out, I didn't think there were quite so many. If there were, then perhaps many were behind the fences as the ticketed event excluded many of the faithful. The uniformed policemen had little to do, aside from chatting up the girls.
Of course, I was there more as a vulture to document those who didn't buy a ticket to see the Pope, but showed up anyway. There was an instance where an elderly couple stood there, waiting as we all did for what seemed like hours till the sun went down, before the Pope-mobile finally made its way down to Hyde Park. She asked if I was Catholic. I said no, and she said she wasn't neither. But her husband was, he was 'disappointed' with the Church, hence the long faces.
There were some oddities with a ticketed event, for a vigil, that I assumed was meant to reach the masses. It was run like a rock concert, tall green borders separated the rest of fawning masses from those who paid to see the man himself. On one instance, a little old lady – on crutches no less – hurried to a slit between where two green walls met, and peered into it, hoping to catch a glimpse of the leader of her faith.
I'd like to think the excluded are those who are most faithful, they sang praise and worship songs to a green wall, as they could only hear but a murmur from the exceptionally muted speakers with which the Pope's voice could hardly be heard.
A portrait of faithful Britain ?
Current Panel: Total Panels:
Posted in middle, Photo Projects | 3 Comments »
Thursday, July 22nd, 2010
Salient Stuff
I am a Freelance Photographer, based in London. Food and restaurants are my speciality. I take on private and commercial commissions, my stock photography is managed through Alamy and Ingram Publishing.
My photographs have appeared across a range of National Papers including The Daily Telegraph, Metro, New York Times and Zeit ; and Magazines such as National Geographic, Delicious, Restaurant, Fire & Knives, Layer 7 and The Argus.
Kang Leong
Email : kang at londoneater dot com
History
I picked up my first camera when I turned two, it was around the time my brother was born. In those days, my dad was busy building his business and my mum was busy documenting her two baby boys growing up. She knew nothing about cameras save for that it was a device which could help her store memories for life. Borrowing her sister's then film SLR; she taught herself how to use it to photograph me. She developed the photos at the local lab in our hometown in Brunei and upon seeing pictures of myself, I was motivated to photograph my mum while she shot me and my brother. It so happened that my dad had a broken Kodak pocket instamatic camera which she gave me so I could pretend to take photographs. I didn't know that the camera wasn't loaded with film, so I still paid attention when framing images through the tiny viewfinder, not really knowing what framing really meant at that age. Somehow I would wait for some moment to appear before the finder and make my imaginary pictures. I would ask my mum where my pictures were whenever she came back from the photolab, she would simply smile at her baby boy. My mum photographed me everyday until my 12th birthday. I continue to be fascinated everytime I look in the viewfinder, hoping for something intriguing to happen.
Additionally, I manage the following websites: LondonEater and Noir
All photography that appears on this website is created by me and is all rights reserved. If you would like to use my work please ask first.
Current Panel: Total Panels:
Posted in Blog | 4 Comments »
Thursday, April 15th, 2010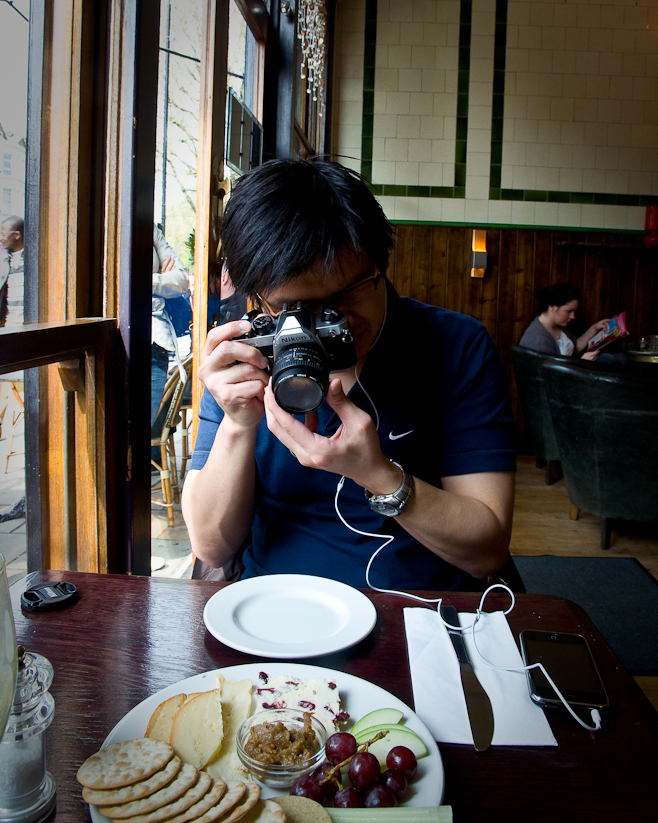 This is what food blogging looks like. Today, he is trying an experiment, by training his antiquated film camera on a plate of cheese and fruit all the while bobbing to tunes streamed from the internet to his touch sensitive media device that can also make calls, sometimes. (more…)
Tags: camera, guide, introduction, new template
Posted in Blog, Camera Equipment, left | 6 Comments »
Wednesday, April 14th, 2010
I was in transit at Changi Airport for a day, spending the night at the transit hotel. In Asia, there is generally less fuss about cameras in public spaces (if Airports are indeed public). On the other hand, Singapore is generally tourist friendly. I flew with the massive A380s, on the upper deck, throughout the flight, passengers were wanting to grab a shot of this historic engineering feat. I had my camera firmly round my neck for the entire leg of the journey, and nervously wanting to make a photo essay of this from the very beginning. While in transit, the airport seemed a microcosm of life, a bubble that exists within its own set of rules, and observing life inside, felt abit like being in another country all together. I was sight seeing I suppose. It starts at the departure lounge at Heathrow, and ends at the departure lounge at Changi.
Current Panel: Total Panels:
Tags: airports, changi
Posted in middle, Photo Projects | 4 Comments »
Wednesday, April 14th, 2010
Welcome to my revamped portfolio site. I felt it was time for a reboot because the last one threw up too many compatibility issues. Where the last theme was centred around a wow factor, it was restrictive. Now it's about getting straight to the point, quickly.
Posted in Blog, daily rants, Featured | Comments Off on You make me feel brand new
Monday, March 15th, 2010
So here's the situation. Armed police officers have been using laws to search, arrest, detain and stop photographers both amateurs and award wining pros from making photographs in public. There's something a little disturbing to find that one has to look over one's shoulder just to take snapshots while in public. So in an effort to hit back at the lunacy, PHNAT has invited everyone with a passion for the photography to gather at a mass photo gathering to stand in support for street photography, and to defend our rights, to simply photograph. I love street photography. I love that things are always in motion around me. I love that I feel so alive when trying to capture the life and times. The streets are beautiful you know, there's always something happening, some decisive moment that I am missing at every second corner and out on the streets, photographing people and how they interact with the world makes me feel so humble, so small and realise that I am a part of a grand scheme of things.
Some 2000 photographers descended upon Trafalgar Square at high noon on an overcast Saturday afternoon. I have never seen so many cameras concentrated in one location before. All the L lenses were out on the occasion, the Nikons certainly did not disappoint either, and the Leica Louts were standing tall and proud. There was a general atmosphere of warmth and I could tell that everybody loved their craft, be it a hobby or profession, everybody had a common passion to make photographs. Naturally, the first thing I did when I got there was to simply take pictures, and I was not alone. I could hear a harmonious wave of shutters going off. I felt comfortable, like we were one big family, and it was an amazing feeling to have the approval of everybody around us, when we wanted to take a picture. It was like being at the largest ever photo walk, and everybody knew what to do – everybody was photographing everybody else. I love photography, and today I realised I was not alone. We are photographers, we are not terrorist. And so I was glad to have attended and support this rally. I hope this set of black and whites documenting what I saw goes a little in helping the campaign and to helping those in power understand why we love taking photographs.Hope you'll enjoy this one folks.
(oh and I also made a set of colour shots and you can see them at my flickr account
here
)
Current Panel: Total Panels:
Tags: mass photo gathering, photographers, trafalgar square
Posted in left, Photo Projects | 6 Comments »
Saturday, March 6th, 2010
I'm a huge fan of The Americans, it is my favourite photo book of all time. I think of it as the classic paper movie and Robert Frank's cinematic style is a massive influence on my work. I only wish I could capture a little bit of Robert Frank's magic, but the man has an eye for not only a personal moment, but also a skill in creating atmosphere when he makes the viewer see his photographs in the sequence he had intended. I had been to Taipei once before in 2009, and the lasting impression the metal metropolis had on me, was its effervescent bustle. The city was bursting at the seams with motion, people, chatter and streetfood. A pumping jive which was electrifying just to watch the stories unfold before my eyes.
I didn't photograph much during that time, but the memory of the visit loomed in my memory. I had promised myself that if I return to the city, I would try my best to capture the streets on film. I revisited the city in February 2010, returning in the middle of its winter and saw the dawn of the new lunar year – the Tiger year. Winter meant three days and three nights of rain, but it did not stop me from losing myself in the side streets and the underbelly of the urban jungle and being a spectator of the side stories. I wanted to capture the city's essence, it's pumping jive, the crass clash of the new metal and glass buildings building on top of the old shop houses. The city's neon lit night, the blissful locals breathing soul into the city and all this life happening all around.
Presenting my Taipei Street Stories. A digital paper movie, told from the streets of Taipei.
58 photographs.
Under construction, the new building on the old.
Street food seller opening for breakfast.
Three days of rain, all the umbrellas are out.
Fireworks. First day of work, in the new year of the Tiger.
On the way to the bank, Monday morning.
Breakfast time.
The owner of a Beef noodle soup gesturing while watching TV.
Selling coats on the walkway.
Women inside a street market.
Shoppers making their way into the street market.
Flogging clothes on a pedestal.
Clutching a shopping receipt. All receipts also double as a national lottery ticket.
Burberry scarf, lottery ticket seller.
The rain has stopped, but the umbrella now sheilds from UV rays.
Post, green is local; red is international.
A couple on a vespa on a date.
Fish by the sea.
Fishermen bbq sausages while fishing by the sea.
A couple on a date, one of their hang out spots.
Kids playing on the beach.
Sunday afternoon.
A street fiddler.
Watching Taipei.
Two men and a dog.
Enticed by the street food.
Enticed by the street toys.
Husband and wife.
A street artist with a customer.
Praying with posters.
Waiting for the bus.
Artist in transit on the MRT.
A cluster of vespas.
The cluster on the move.
Crossing the road.
Watermelon umbrella.
Husband and wife, much later.
Watching the city go by.
The year of the Tiger, shop window.
Day turns to night, ximending.
Collecting for charity.
Friends.
Kevin's Tattoo.
Waiting for takeaway at Hi Sushi.
Visiting the bookstore.
Totally engrossed.
An angel promoting her store.
Red Lanterns outside of SOGO, department store.
Mother and daughter at night.
The city lights, after dark.
A couple speeding, probably  away on a date.
Inside seven eleven, shopping dog.
The house cat, cleaning.
Riding the MRT one last time.
Four types of city transport.
Bicycles, all chained and unused.
Old guys playing chess at the park.
Old guy falling asleep at the park.
Cleaning up, closing up.
Current Panel: Total Panels:
Tags: Leica, photography, street, taipei, taiwan
Posted in middle, Photo Projects | 1 Comment »
Tuesday, January 26th, 2010
I have been taking my Leicas with me everywhere I go these days and shooting the streets with these compact machines are just a wonder. Now that I have gone Leica, I wonder why I didn't start earlier. I have found that so far the combination of the quiet shutter, the unassuming classic body, the compact lens design all contribute to this Leica 'stealth' which allows the photographer to get closer to their subject. Actually, I think this stealth is more the fact that people around feel more comfortable in the vicinity of such a small camera, as opposed to the monster of an SLR which my D700 is. This comfort level does seem to encourage me to take more photos. I took the camera out for a photowalk with a photo buddy, Mark around Soho, Leicester Square, Chinatown and through to the very touristy environs of Covent Garden. Of course, this part of London doesnt really need much introduction, famed for food, shopping and theatre – it is the hub of entertainment. I am told that the red light district in Soho is quite sterile when compared to their European counterparts – such is the degree in which this area has mellowed, with time. I like Soho, it is easy to get to, being that it is right in the centre of London, and there is always a cheerful buzz about it during the weekends, plus how can one resist Four seasons Roast Duck in Gerard Street right?
Current Panel: Total Panels:
Tags: covent garden, leica m8, soho
Posted in Photo Projects, right | 1 Comment »
Thursday, January 21st, 2010
So what the hell has been going on in my life so far? Well, I have only just finished a food related commission and I think the client was quite happy with the results. I am anxious to see what they will use my photography for, in the mean time it's all still underwraps. At the moment, I am switching focus to my next photo assignment, it's something I don't quite have much experience in since I mainly produce for web. I have been commissioned create a set of prints to fill a restaurant wall. It should prove to be an interesting challenge. I'm going to use Metro Imaging for the printing.
Anyway, aside from work, I have actually been gearing up (quite literally) for a coming vacation to Asia. I expect to travel light, and so the bulk of my D700 will not be welcomed. So in my never ending quest for imaging perfection versus compactability, I have finally decided to sink my (now non-existent) savings into a Leica system. Leica M8 Chrome and a Leica M6 Classic Black for bodies. Lenses include a Leica 35mm f2.0 summicron ASPH (coded) and a Leica 90mm f2.0 summicron Type II. Both cameras were bought second hand from two of the best Leica dealers in London, namely R.G. Lewis and Aperture Photographic. If you are interested in used kit, I personally recommend these guys as I trust them, great service too. Ok, first of all, Leicas are the legendary cameras which street photography heroes including Frank, Cartier-Bresson and Winogrand had used to create their classic prints, so the reputation of this relatively small German company definitely precedes itself. Mainly it is down to the lenses, as many claim that Leica glass have a signature 'glow' which other brands do not seem to exhibit. Leicas are fascinating cameras and are unique in that they are one of the last bastions of rangefinder photography. Yes, that's right, Leicas are not Single Lens Reflex cameras, they are rangefinders. The salient differences being that the photographer frames and focuses via a separate view/rangefinder (ie: you do not see through the lens) ; while in SLRs, the photographer frames through the lens (Ie: you see what the lens sees). And because the viewfinder is separate to the lens, rangefinder cameras are much smaller in size, since there is no need for a prism and a mirror to deflect light from the lens to the viewfinder….. I realise I'm bad at explaining this, do google it. With a smaller body and a lens element much closer to the film/sensor, lenses can then be designed much smaller. No mirror also means less noise (no mirror slap) and this makes the entire package a stealth machine fit for the streets (well..). With Leicas, the mystique that surrounds this brand makes it a little special for gearheads such as myself – the cameras are also sculpted with clean, sleek lines and are simply exceptional sex machines.
Anyway, let's have a look at the digital M8 first… I don't fetch enough commission work to afford the M9, if I could, ohh….
So here we have Leica's first digital rangefinder, which was released in 2006 – the M8. It has a 1.33x 10MP Kodak CCD sensor and very crucially, it does not have an Anti-Aliasing filter in front of the sensor, giving rise to much clearer and sharper RAW files.
Couple the AA-less sensor with a Leica lens, and you have an extreme compact digital imaging system. I've been shooting with it for a week now and at base ISO160, the M8 really sings. As amazing as my D700/35f1.4AIS is, the Leica outfit beats it outright, right from the sharpness wide open to the smooth bokeh. Leica glass is just in a different league to the Nikkors. Not to say that the Nikkors are bad, its just that Leicas are that much better.
The Leica M8, unfortunately is not perfect. It has a weak IR filter in front of the sensor, so that means that sometimes, blacks look purple. Its a problem easily rectified by using a UV/IR filter, though for everyday shooting without the filter, you'll hardly see the difference. Another issue – it's bad at high ISO. You can go to ISO640 and that's about it. Anything above that is frankly laughable, especially in 2010 photography when you have digitals such as the D3s producing clean prints at up to ISO102,400. The centre weighted metering is overly enthusiastic and in my experience, it approximately overexposes between 0.3 and one stop. You cannot shoot strong light sources in a darkish surrounding because you'll get weird streaky lines, and at ISO 640 and above, you can throw the image away. And the shutter is really, really loud. I am tempted to send it to Solms to get the shutter upgraded to the quieter M8.2 shutter, but which will rob it of it's super fast 1/8000th speed. However, in spite of all these niggling issues, when exploited correctly, it really delivers true Leica quality.
The M8 is not very ergonomic in that you will miss the film rewind lever from the film Ms. Luckily, there are accessories which emulate the film rewind lever feel to improve handling and balance. I am of course referring to the Thumbs Up grip, designed by Tim Isaac, and clips on to the back of the top plate. The jutting hilt allows you to rest your thumb on it and this really improves overall handling as you could 'hang on' to the camera with your thumb, whereas without it, it would simply slip out of your hands. Now since I cannot really use this camera at High ISO, I'll have to depend on fast lenses and steady hands to nail sharp images without camera shake. Enter the soft release button that screws onto the shutter release and when mastered it should allow handholding to about 1/8s… I suspect only really applies to wide angles up to say 35mm; anything longer, I still think one needs higher shutter speeds. In my case, my 90mm certainly needs at least 1/60s – anything slower is blurry.
Ok, so that's the Leica M8, so far I love it. I agree with many things that Steve Huff has written about in his review, so I'm not really going in any more detail. I buy cameras to make photographs, if the photographs come out looking great, then the camera is a useful tool. If it cannot create images to my needs, then its just useless. Thankfully, the Leica M8 gives me the images I need, and more importantly, gives me the portability and discreetness to shoot the type of photography I do. Plus it's a sexy beast, what's not to love?
Ok let's now move on to the film Leica M6 Classic…. oh if the M8 is Jennifer, this is Angelina.
A true Leica M. Shutter speeds from 1s to 1/1000th , 0.72x viewfinder, machined zinc/chrome alloy, black, cloth shutter and a Tom Abrahamsson soft release … this is a real camera. The operation is simple and elegant, the sound of the tripped shutter with the melodic gears in motion are as smooth as a Debussy composition. It is just so romantic in the way it captures images, and I have never used a camera in which the act of making a photograph is so pleasurable.
I am in the process of acquiring a changing bag and a paterson film spool so I can develop some tri-x at home, at the moment, I've loaded Portra 400NC film in it. I am going to use this camera to create a 365 flickr project, should prove to be quite a fun exercise, well, it already is.
Anyway, I think I've blabbered on long enough, I love my leicas and will post some photographs I have taken with them, particularly a street photography project of some sort… but in the meantime, the obligatory self portrait with the Leica..
Tags: 35mm, 90mm, leica m6, leica m8, summicron
Posted in Blog, Camera Equipment | 6 Comments »
Tuesday, January 5th, 2010
I did some work for Daddy Donkey a while ago to help them create abit of photography for their website. If you don't know Daddy Donkey, they are the ultimate burrito-mobile machine based in Leather Lane. They make great burritos, I recommend the steak one – it really is as juicy as advertised. I remember the brief for this one because it was alot of fun to do. Joel (the owner) wanted something freestyle and a set of photographs which capture the bustling street feel and also the vividness of the the food. Leather Lane and the vendors who set up their stalls spring to life during the busy weekday lunch periods… and boy were they a tough crowd to manoeuvring around! I shot this throughout an entire service, from about 11 am just as they were setting up shop through to seeding myself – literally – in the centre of the moving crowd to catch some up close and personal wide angles and finally to the winding down period as people return to their offices. It was tiring, challenging but I really had alot of fun doing it. You can see the final results over at the Daddy Donkey official site, they are using alot of the material as a flickr slideshow.
As I was archiving this job, I realised there was enough unwanted material which could be used to put together a photo story of some sort. As you know, I like putting together behind the scenes articles, I was trying out new photo effects as well, in particular I was interested in replicating cross processing, lomo, polaroid, you know sort of faded out vintage film like effects on digital.
Anyway, enough gibberish, here are the results, no subtitles to go with this paper movie (hopefully not needed), and I hope you'll enjoy the show…
Current Panel: Total Panels:
Posted in Blog, Photo Projects, right | 2 Comments »
Friday, January 1st, 2010
And pop goes the cherry. This series of photographs was taken from my window at midnight on New Years Day, 2010. It would appear that my neighbours had decided to create their own little fireworks display. Of course, we had the London eye fireworks on TV, but when something so colourful was happening in – literally – our own backyard, we turned off all the lights to watch the show. It was brief, about a couple of minutes, but man was it fun. I should go thank my neighbour for the fireworks display. Hello 2010 and here's to a fantastic new year, hooray.
I'm sure everyone has their shopping plans etched out for the months ahead, and you know I've got plenty. As much as I love spending my money on food, I tend to devote a large chunk of my life savings to photography equipment. At work, me and my colleague call ourselves gearheads. I shoot food, he shoots churches, but we'll only shoot our major subjects of interests with the latest Nikon digital bodies, any less, and it's a toy camera. Haha, oh man, I'm a camera snob, I should be ashamed of myself. I love gadgets I have to admit, I do wish I was more dedicated to the craft itself, than the tools, but the tools are equally important for me.
I shoot with a Nikon D700 and it's a great camera. A digital sensor physically equivalent to the original 35mm 24×36 format, which means that I can use all the Nikkor lenses made for the Nikon F-mount as it was originally intended, without a cropped view. More importantly though, there's more bokeh when you operate at full-frame…. I'll save that discussion for another post though, today I just want to share my lust for camera gear with you.
There's an acronym on the web for this – G.A.S: Gear Acquisition Syndrome. It's a full blown addiction. It starts with probably a perfect image taken with said equipment, be it a lens or a camera, and I'll probably have seen it on flickr. And then I'll probably google a review (my favourite so far is Steve Huff and my utter envy of his Leicas), and then after gathering all the relevant intel on the piece of kit; my life suddenly becomes a quest to acquire the Holy Grail. My current setup – whatever it may be – will never take photographs as I 'intend' it to, and my mind will be fantasizing about what my dream gear could do instead of what I have. My mind will be wandering until I finally surrender my credit card to the camera dealer. I'm a Nikon guy, very loyal to the brand having started out with the D40, made some video clips with the D90 before jumping into the full frame arena. I've also dabbled with a wide variety of lenses too, and like many just starting out, I was lured by the zoom-it-alls to my first prime, the nifty fifty. Today, I compliment my D700 with four prime lenses that covers the 24 to the 85 range, and it handles all my image making needs. I don't shoot with zoom lenses.
Although, if we're talking true gear love, then it's got to be my Nikon FM2n. Fully manual film SLR, loaded with Kodak Portra 400VC or Tri-X 400, slap a 28 f2.8 on it and take on the streets… now that to me, is true photography.
This image was made with my FM2 and a 28mm, probably set at f4, probably zone focused to 1m and probably loaded with the cheapest film I could get at boots. I had it developed at my local sainsbury's and it is untweaked, straight off the negative. Great isn't it? Alas, there are times when I need to go digital, but my heart would always lean toward the FM2, the sheer joy of exposing film, is what makes photography so romantic. As we roll into 2010, high on my shopping list is the ultimate 35mm camera : The Leica. After going back and forth and back again, I've decided my first Leica should be a film one, the Leica M6 to be exact. To keep to a budget, I'm looking at 50mm 'cron and lots and lots of rolls of tri-x 400.
This is shot with tri-x 400 with my FM2 at 28mm, probably at f8 and probably prefocused at 1m as well, but I don't know. To quote a fellow aspiring photographer mate of mine, film just has a 'look' which digital can't yet deliver. Of course, if we're talking about signature looks, there is none more recognisable, or to be exact, quite as revered as the 'Leica glow'. What's their motto again, 'You can always tell a Leica by the pictures it takes' … or something. Anyway, I want it. I want a Leica, I will buy it in 2010, I intend to forge that 'connection' Leica photographers claim to have with their gear and I want to make photographs with soul and abit of glow.
Posted in Blog, Camera Equipment, right | 3 Comments »
Tuesday, December 29th, 2009
I'm not a wedding photographer. I wouldn't know what to capture, how to frame the important things and what to exclude. When I was invited to bring my camera along to Kate and Dipo's wedding day, I had already decided beforehand, that I was going to shoot this as I would do when I came across decisively special moments on the streets. The camera is an extension of my eye, recording the memories which I chose to keep and for me, the world is life, and always in motion. Photographing a wedding was to capture life playing out in motion.
I am not a wedding photographer, for I only know how to put together photographs to tell a story. For me, a beautiful photograph wasn't about delivering the slickest portraits with the a touch of the speedlite; instead the beauty of photographing life, was to capture the essential speed and movement of life itself and especially the people who had come together to make it happen. I wanted documents which when pieced together and viewed as a sequence, told the story of Kate and Dipo, like a paper movie, even if I was aspiring to be only an ounce as good as Robert Frank's eye for making a paper movie.
I could never be a wedding photographer because I was constantly witnessing, constantly waiting for the truth to unveil itself in front of my camera, for the real emotions to spill out from the most momentous of occasions, for the love to manifest itself, and I didn't know how one could freeze that with poses, because love – at least for me – is something that is patiently serendipitous. So I was patient, I waited for the smiles, for the hugs, for the laughs, for the tears, for the love to show itself in front of my lens if only for a split second, so I can steal the moment.
I am not a wedding photographer because my photographer's eye only seeks the modest in the carnival. It is always the hunger for the truth and the reality which guides my frame of what I choose to exclude and what I choose to include. Something pure, something impassioned, something real, something born of patience and something that's abit of an act of love.
Here are my first photographs of a wedding : Kate & Dipo.
Posted in Blog, daily rants | 2 Comments »
Tuesday, December 29th, 2009
WordPress can be such an annoyance sometimes, I stepped away from editing this portfolio for a little bit now, and have decided to settle on 90% width pictures instead of a 100% full browser width. Having tested the site's capabilities across three computers, both mac and pcs, full screen cuts away took much information at the bottom of every picture. So anyway, I'm still trying to see if there's a way to get around it, aspect ratios… aspect ratios.. sigh. Either I resize and crop my images for widescreens or if I keep the 6x4s then it will cut off.
Ah well, 90% is a good compromise, for now, problem is there is an annoying black bar at the right of the screen that looks alright in the portfolio bit, but for the blog layout, it looks abit weird. And this site still doesnt function properly in chrome so… technology sigh.
Posted in Blog, daily rants | No Comments »
Sunday, December 27th, 2009
It's done, I've chosen all the photographs I wanted to include in my portfolio and now you can browse it to your heart's delight… and hire me for a coming project.
Today I uploaded my people portfolio. Photographing on the streets is something which I find both challenging and exhilarating. Like many street photogs around, I'm aspire to Henri Bresson's decisive moment theory, something which I will probably never master, but I do try. Now all I need is a Leica.
I'm tired, never realised choosing pictures can be such a time consuming chore… anyway, that's it for now, go see my portfolio, there will be a few more 'albums' to be added in the weeks to come, particularly a wedding which I did a while ago, that I am anxious to showcase, but that's for another day, I will keep you updated. I'm going to be shooting film exclusively next week, I'm hoping its going to be warmer, will be taking my Nikon FM2 out for a spin.
Ok so what's next with Kangphoto.com – Well, as I said in an earlier rant I have some plans for the blog section, and I plan to write regular updates here which include some of my post processing techniques, some photography discussions, perhaps speak about my heroes and some kit reviews as well. Can't say I'll be adding content everyday because… I have stuff to do, but I will try to do at least one post here per week.
Posted in Blog, daily rants | 1 Comment »
Sunday, December 27th, 2009
As much as I love colours, there is something so romantic, so eloquent and so mystical about black and white which I cannot really describe. Some say that a photograph is a window to one's soul, and that window can only be unlocked when all the distractions are stripped away in a monochromatic image – the true essence of the subject in the photograph. One's eye wanders the picture.. you see the man's eyes, and then the woman's hand, and then her eyes and then you see a moment shared between them, before you eyes wander past the man's shoulder to notice a reflection of another man, arms crossed and a double image, a reflection, or a ghost?
As much as I love photographing food in all it's vibrancy, my heart belongs to the streets, and I put away my pretensions and see the world, as it was meant to be, photographed.
My black and white images now available for browsing.
Tags: Black and White
Posted in Blog, daily rants | 1 Comment »
Saturday, December 26th, 2009
First things first : I've rejigged the nav bar on the portfolio page so that when it minimises, it will show more of the selected photograph, more viewing pleasure, eh. OK, so today I uploaded my restaurant interior/exterior portfolio to compliment the food portfolio, so you guys can view it there… but right now, I just want to share some snapshots with you.
So my christmas pressies are the hottest pick ups a baller can ever, well, pick up : A fresh pair of Nike Air Jordan XI Space Jams, 2009 Retro. I can't believe I'm saying that. Got them the day they came out at Footlocker in Oxford street, and let me tell you, they. are. sweet. I've been in the shoe game for a while now, and while I have owned the Concords (albeit DMPs) nothing is quite as special as the Space Jams. It's just the perfect basketball shoe. The shape, the leather, the black upper, the icy soles… love it.
Without further ado, here are the Space Jams..
I actually have two pairs of the spacejams. One is a size 11 to rock on sunny days, another is a size 10 to keep in the closet for rainy days. I ordered the 2nd pair from the Nike online store and it's still so fresh…. life is good.
Tags: air jordan, space jam, XI
Posted in Blog, daily rants | 68 Comments »
Friday, December 25th, 2009
Merry Christmas folks! It's now just gone 1am here in Londontown and I am so proud to have just finished uploading my complete food photography portfolio. You can see it here. As food is near and dear to me, this particular set of photographs mean alot to me – I am afterall, first and foremost a photographer of food before anything else.
This is two years of intense eating and photographing so, I do hope you'll enjoy it.
Over the next few days I will have a clear plan of delivery and plan to roll out the rest of the portfolio sets as follows:
1. Restaurant Interiors/Exterior – 26th Dec 09
2. Black and White – 28th Dec 09
3. Street Photography 1st Jan 10
I'm tired, tell everybody who is looking for a photographer to come see my work and hire me too, I'm not free, but am definitely worth it.
Speak tomorrow.
Posted in Blog, daily rants | 2 Comments »
Wednesday, December 23rd, 2009
So my domain name is still being propagated throughout the internet, which means that not everybody can access this domain as yet. I have started telling my closer mates about this portfolio, generally feedback is positive, though I am looking for criticism as well, so I can iron out any evil bugs which currently plague this site. I already know that it doesnt work on blackberries and the portfolio pictures doesnt really load properly in Google Chrome, sometimes. An issue I will rectify with time. I think I have settled on the typography and design, now I just have to actually put the portfolio together…. believe me picking and choosing my 'best' stuff is really hard….
….So as it is close to Christmas, I have been feeling very festive, and decided to run out and get myself not one but two pairs of Air Jordan XI Space Jams. If you are a sneakerhead, then you'll know that these are like the holy grail of Jordans. One to keep fresh in the closet, the other I will rock on sunny days.
Right so, the photography which is currently on show in this version of the portfolio comes from a variety of outings, some are assignments, some are personal projects. I won't go into the details because… they are set to change in the weeks to come as I sift through and consolidate my library. I can tell you that the shot of the kid which you see on this page was taken at Winter Wonderland, Hyde Park.
Yeah.. and all photography you see on this website is created by and shot by me 🙂
Right then back to work.
Posted in Blog, daily rants | 4 Comments »
Tuesday, December 22nd, 2009
Hi guys, this will be my first post on the 'blog' bit of this website. Ahem, let me briefly introduce myself. My name is Kang, I'm a freelance photographer… among other things. Other things in my life involve lots of eating, and lots of writing – both of which can be seen at londoneater.com – the internetz… growing online London restaurant guide. So things are still abit messy here, I'm working away from home at the moment, so my portfolio images are not quite up to scratch yet. If you so happened to have stumbled into this site, then I hope you will bear with me as I get things up to 100% over the next couple of weeks. In the mean time, you can browse what is already available, otherwise you can head to my photoblog noir where I keep my street shots.
I've got small, but exciting plans for the blog section of this website. On my assignments, there's always alot of beautiful photography that doesn't get snapped up by the client and gets left behind in the digital darkroom, alot of which can be re-used in behind-the-scenes photo stories. I also plan to use the blog to write small tutorials which I hope can be useful to your photography, but also is a way for me to document new techniques and other such things. I'll also use this to write about my practical experiences with regards to cameras and lenses….and anything photographic that crosses my mind.
Anyway, I better get back to work on this site, speak soon folks!
Posted in Blog, daily rants | 12 Comments »