Food Photographer living in London producing delicious material, and other related documents.
Archive for the 'left' Category
Thursday, July 14th, 2011
Pontefract. Or was it Pontefrac? Unsurprisingly, the weather was a little slippery when I arrived. As I negotiated the slight hill that Monkhill station was perched upon, I slipped and slided down, expectant of a weekend full of booze, and Yorkshire puddings. I had well and truly arrived in the North. I rang Northern Rail Hotline who put me through to the local taxi guys operating in the area. It didn't take too long, but I had my copy of Monocle to keep me from getting wet. The driver pulls up and asks me what I was doing in the Pontefract. I said I was here for a friend's wedding. He said oh cool, but do you prefer living in the UK or do you dream of South East Asia?
I thought about it, and I said here. Maybe it was the weather, but thinking about it, it was probably because of the wonderful people who've invited me to their wedding on this very occasion.
I love Matt & Michelle to bits, when I started my first real job five years ago, Matt was there with me from day one. Since then, we've had some great laughs together, spent many Friday afternoons staring at his – then – superiorly large Bravia LCD TV, and you know, Michelle and Matt look so beautiful together.
'twas a lovely wedding in Pontefract. 'Twas perfect.
Current Panel: Total Panels:
Posted in left | No Comments »
Thursday, September 2nd, 2010
Weddings are such great fun. Weddings always mark a moment of reflection, be it if you are attending as a guest, or whether if you are more deeply connected to the couple. Weddings are defining, memorable, melancholic, alcoholic, touching, beautiful, romantic, traditional, unrelentingly human.
I've known Jon for close to four years now, spent about a year seeing him on a daily basis, as we share the same working space. We got drunk together, we've debated the wide, the ridiculous, the mundane over several lunch hours, and we've rubbed shoulders on the basketball court many a time.
I was elated, fortunate and immeasurebly humbled to have had the chance to witness Jon and Susan's marriage. The ceremony was fantasy, it was pure bliss and it was resplesdent. We gathered, initially under the threat of a stormy afternoon, at Pettycur Beach in Kinghorn, Scotland. The jitters were not just butterflies, we were shivering a little in the breeze. As momentum built, as the witnesses arrived en masse, as we settled to the blue seats slowly sinking into the sand, the bag pipes began its rhythmic march, and as the groom and his merry ushers and his best man stood proudly, ready and waiting to receive the bride to be, we braced.
She arrived, she is beautiful, aglow in a glowing gown and then the heavens had to burst open, gracing the afternoon with warming rays of golden light. Jon shook the hand of the man who gave Susan away.
One last embrace. For me, the moment occurred right at this point of the ceremony, as Jon & Susan prepare to become Husband & Wife, I noticed Jon furrowing his brows, controlling his emotions, folding his lips and fighting to contain his tears of joy.
Jon & Susan, quite literally tie the knot, scooped soil into a common bucket of life and became Wife & Husband.
As the night worn on, I reflected over my second dinner of nips, tatties, stovies and haggis. I felt fortunate, tearful, inspired, happy and a little drunk. I thought of my life, my love, my parents, my brother, my mistakes, my triumphs, my friends, my career, my ever expanding waistland and played a love song in my head. As I watch the guests loosen their ties, discard the high heels and bust their buns on the hardwood, I broke a smile.
Current Panel: Total Panels:
You can view the entire 300 image set on my flickr account as two separate private galleries:
Part One The Ceremony ; Part Two The Reception.
Susan & Jon have embarked on a seven month long honeymoon around the round, they keep a blog.
Posted in left | 11 Comments »
Thursday, April 15th, 2010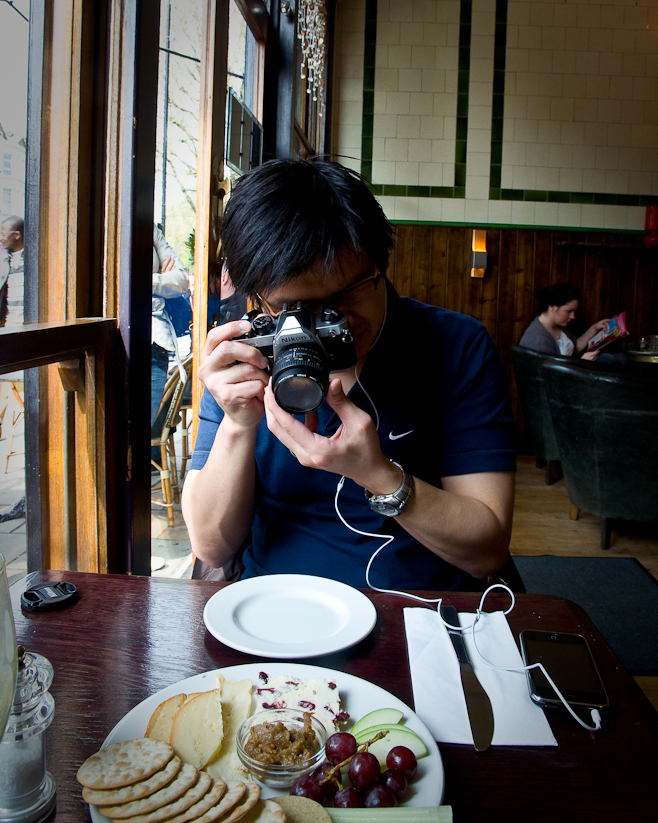 This is what food blogging looks like. Today, he is trying an experiment, by training his antiquated film camera on a plate of cheese and fruit all the while bobbing to tunes streamed from the internet to his touch sensitive media device that can also make calls, sometimes. (more…)
Tags: camera, guide, introduction, new template
Posted in Blog, Camera Equipment, left | 6 Comments »
Monday, March 15th, 2010
So here's the situation. Armed police officers have been using laws to search, arrest, detain and stop photographers both amateurs and award wining pros from making photographs in public. There's something a little disturbing to find that one has to look over one's shoulder just to take snapshots while in public. So in an effort to hit back at the lunacy, PHNAT has invited everyone with a passion for the photography to gather at a mass photo gathering to stand in support for street photography, and to defend our rights, to simply photograph. I love street photography. I love that things are always in motion around me. I love that I feel so alive when trying to capture the life and times. The streets are beautiful you know, there's always something happening, some decisive moment that I am missing at every second corner and out on the streets, photographing people and how they interact with the world makes me feel so humble, so small and realise that I am a part of a grand scheme of things.
Some 2000 photographers descended upon Trafalgar Square at high noon on an overcast Saturday afternoon. I have never seen so many cameras concentrated in one location before. All the L lenses were out on the occasion, the Nikons certainly did not disappoint either, and the Leica Louts were standing tall and proud. There was a general atmosphere of warmth and I could tell that everybody loved their craft, be it a hobby or profession, everybody had a common passion to make photographs. Naturally, the first thing I did when I got there was to simply take pictures, and I was not alone. I could hear a harmonious wave of shutters going off. I felt comfortable, like we were one big family, and it was an amazing feeling to have the approval of everybody around us, when we wanted to take a picture. It was like being at the largest ever photo walk, and everybody knew what to do – everybody was photographing everybody else. I love photography, and today I realised I was not alone. We are photographers, we are not terrorist. And so I was glad to have attended and support this rally. I hope this set of black and whites documenting what I saw goes a little in helping the campaign and to helping those in power understand why we love taking photographs.Hope you'll enjoy this one folks.
(oh and I also made a set of colour shots and you can see them at my flickr account
here
)
Current Panel: Total Panels:
Tags: mass photo gathering, photographers, trafalgar square
Posted in left, Photo Projects | 6 Comments »